WHAT IS SKILL DEVELOPMENT?
The RINK Goalie Development team is focused on providing age and skill specific training for all goalies. RINK provides small group training and 1 on 1 sessions with a low goalie to coach ratio on a custom-sized (35' x 60') goalie ice or full-sized NHL ice. As goalies progresses through their career, countless experiences are implanted upon a goalie's mind. Through these experiences, each goalie begins to build an approach. This approach combines these experiences with core fundamentals and the individual's distinct strengths and limitations.
During a RINK experience, athletes will seek to hone, refine, and master various skill sets within their game. A combination of on and off-ice development will provide goalies a well-rounded and focused approached to their development.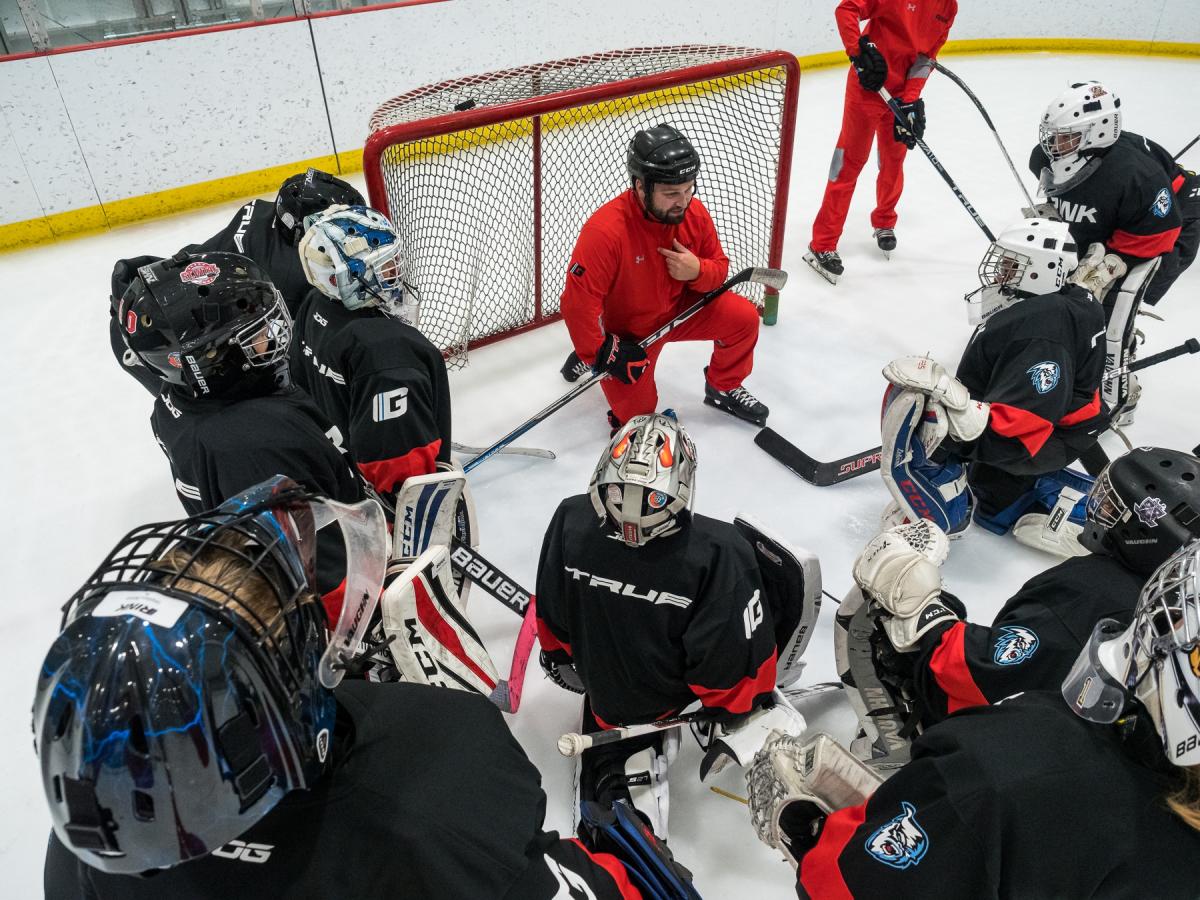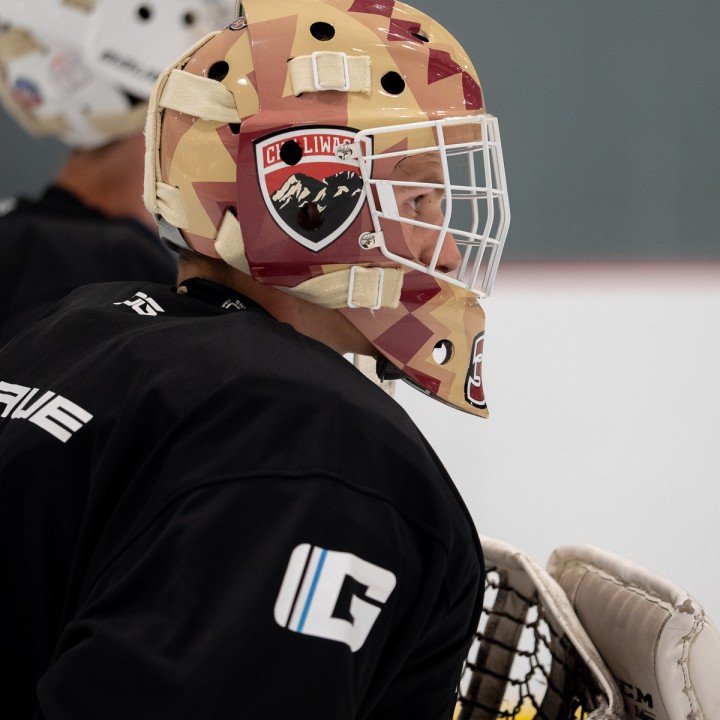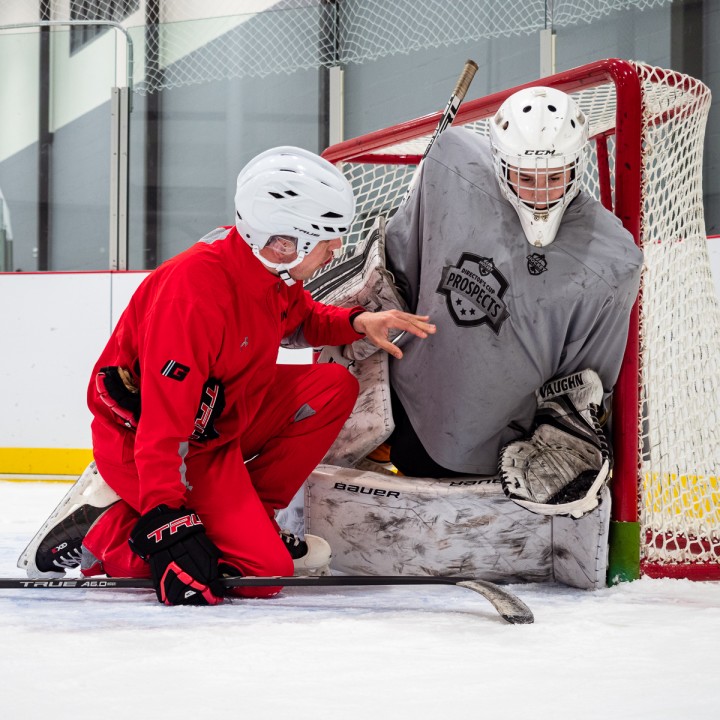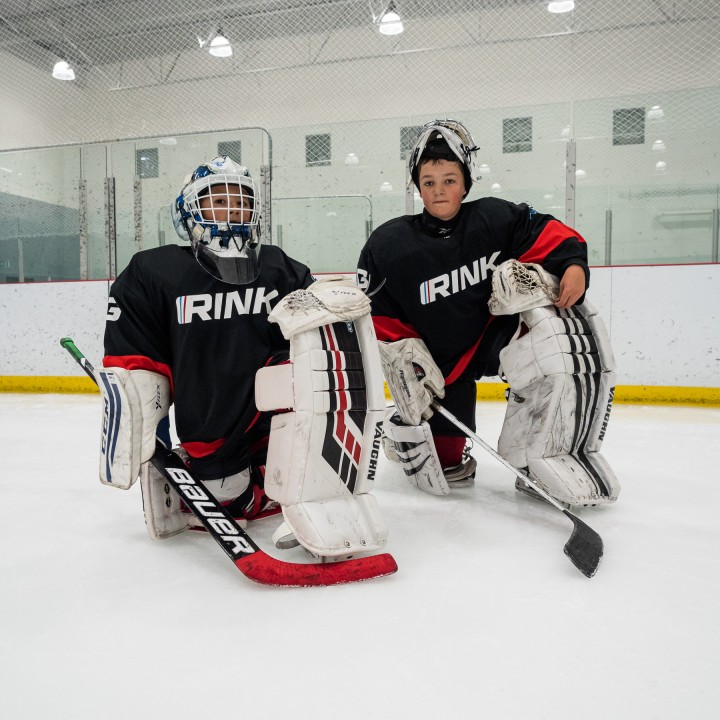 SKILLS DEVELOPMENT PILLARS
Movement & Positioning
Skating is the foundation of every hockey player's game, and the goaltending position is no different. We build on this foundation for goaltenders through position-specific movement including edgework, power-skating drills, and PSM crease patterns.
Movement & Positioning
Reaction Ability
With all the techniques being taught in the goaltending position now, sometimes the ability to simply react to pucks and make saves gets overlooked. This is still the bottom line for goalies. A goalie's reaction ability encompasses their puck tracking, reflexes, rebound control, and overall save-making ability.
Reaction Ability
Battle & Compete
To build upon a goaltender's reaction ability, Battle & Compete is also vital for success. The habits and ability to compete to make saves and follow up on rebounds and scrambles are built into our curriculum at every level.
Battle & Compete
Hockey IQ
Goalies are often classified on their own, but they are hockey players just like any other position on the ice. Their ability to understand the threats on the ice, read the play, and understand what their team and opponents are trying to achieve will help them become more effective goalies.
Hockey IQ
Net Play
Offence continues to be generated often from below the goal line. We put a high level of focus on net play techniques and tactics. Understanding how to position yourself on your post technically and when to use each different technique will make a big difference in stopping these offensive chances.
Net Play
Puck Handling
A goalie's game is more than just about making saves. It is about the overall prevention of goals and helping the team win. The ability to handle and play the puck is a big part of that. We make sure to build puck handling into our training for goalies at a young age.
Puck Handling

WAYS TO DEVELOP YOUR SKILLS
Now that you understand what skill development is, what is the next step? The next step is finding the type of training that best suits your needs and schedule as a goalie. At the core, we offer 4 main ways to develop your skills. With 1 on 1 Sessions being the most popular way to train as a goalie followed by Programs, Camps, and Clinics.
The RINK's 1 on 1 sessions are private, individual training session with a RINK Goalie coach on the ice to work on exactly what you want to work on. Your Session, Your Way. Book a multiple session package and save.
Programs are the core of what the RINK does and makes up for the majority of what we do on a day to day basis. The structure of programs are run during a specific time period (i.e Spring, Summer, Winter) and on a specific day of the week at a schedule and consistent time for the duration of the program.
The RINK offers a variety of camps in various formats during the year. Most camps are ran during the summer months and offer half-day and full-day options both at the RINK Training Centre and Kelowna as well as satellite locations around Winnipeg and Manitoba like Gateway, Seven Oaks, Brandon, Regina, and more. These camps also feature off-ice training with our RINK Testify Performance team. Evening Camps are on-ice only camps that run 5 days a week during the same time slot.
Camps have different focuses depending on what age group and time of year they are offered. Camp curriculums are built around each levels mastery skills.
The RINK Training Centre clinics are the most flexible and efficent type of training we offer. They give goalies a chance to customize their training schedule by choosing dates, times, and different training topics that work best for you and your schedule. Clinics allow goalies to have fun and be able to work on an individual aspect of their game without the longer time committment of a program. There is a wide range of topics offered at a variety of age levels to ensure you always have a new skill to work on each session. Fit skill development into a time that works for you. We offer packages that allow you to bundle and save with multiple sessions.
SELECT YOUR MASTERY LEVEL