MISSION
---
Our team of professionals are committed to setting the standard of excellence and innovation in hockey in an environment where exceptional performance has no limit.
VALUES
---
To be the complete hockey resource for personal and professional development. DETAILS
---
It's the little things that make the difference as players climb the ladder in their development. Our team of professionals focuses on the details that allow our athletes to succeed within the team systems. We provide the framework and progressions that allow team members to understand the details of their game, and lead to overall team success.
HABITS
---
Our team of professionals focuses on instilling habits in our athletes that will lead them to the next level. Individual skill development happens with a focus on small, incremental, and focused practice daily. Through individual skill plans provided for pre- and post-practice, we instill the habits for our players to take the lead on their individual development as they move forward in their career.
PROGRESSION
---
As team members' careers progress and advance, the individual skill demands vary as they progress both from a team standpoint and individually. We take on a progressive approach from a team standpoint working with team coaches to develop seasonal skill plans based on the systematic framework and character of their team.

Intro Programs
Skill Training Ages 7-14
R1 Programs
WHL & NCAA Div. 1
Pro Hockey
THE MASTERY PROGRAM
---
The Mastery Program synchronizes on- and off-ice training of players and goalies. Focused on developing a foundation of movement patterns and skills that will support progression to more complex drills and techniques required to play hockey at an elite level. Similar to martial arts and swimming, successful completion of a level leads to an advancement in rank. Following completion of each level, players and goalies will EARN THEIR STRIPES and receive a new jersey that will indicate the rank and level of that player. The goal of the mastery program is to maximize development through deliberate instruction from certified coaches that will ensure skill progression and grow each athlete's love of the game.
---

Introductory
Development
Advanced
High Performance
Elite
Prospect
Pro

Introductory
Development
Advanced
High Performance
Elite
Prospect
Pro

POWER SKATING
---
Never underestimate the importance and effectiveness of sheer, controlled speed. Anyone who has played at a high level will tell you that the difference between the good players and the best players lies in their skating ability. Effective edge work is the bedrock for all skating techniques. With this foundation, we build to improve a player's quickness, acceleration, and efficiency in their skating capabilities. Our Power Skating and High-Performance Power Skating programs are just another way the RINK Player Development helps players make a dynamic impact on the ice.
SHOOTING
---
The art of shooting has dramatically evolved in the last decade. Part of this change is due to the new technology and development of stick and hockey equipment manufacturing. We take a focused approach on improving a player's shot and release and offer proper shooting techniques for all situations of the game. Our advanced segments include topics such as changing the angle on the shot, shooting in stride, in-tight scoring, and much more. With proper practice and repetition, you'll be a dominant threat in all areas of the offensive zone.
PUCK CONTROL
---
Puck possession is strongly correlated to the winning percentage of any team. The more you have control of the puck, the better your position is to succeed. It's important that our players can handle the puck in all zones around their body. Our effective puck control sequences have players learn dynamic fakes and dekes and understand the situations in which to apply them. The best puck handlers know when not to over-handle the puck, which is why puck control is a key approach to our teachings.
BATTLE & COMPETE
---
The RINK Player Development offers the best competitive and spirited environment for hockey training. Each one of our groups is classified by age and caliber, ensuring an appropriate training atmosphere, no matter who you are. Battling and competing in hockey incorporates body contact, puck protection, effective stick work, and proper angling. These vital teaching concepts are only a few reasons why the RINK Player Development sets itself apart from the rest.
POSITION
SPECIFIC
---
Throughout the course of a hockey season, position-specific skill development is seldom included or is completely avoided in most coaching plans for young hockey players. At the next level, whether it be junior, college, or the NHL, breaking down groups and working on position specific topics takes up a large majority of the practice times. At The Rink Player Development, we understand the value in position-specific training, and our professionals break down and stress its importance in our programming. A guaranteed 6:1 player-to-coach ratio allows for constant feedback and communication with players and allows our professionals to focus on the details of each individual's game.
SMALL AREA GAMES
---
On a full sheet of ice, having a size and speed advantage makes it quite difficult to lose the puck. With an isolated ice surface, "keep away" is more difficult because the size and speed advantage is reduced; this puts the emphasis on skill. Integrating small area drills and games is a crucial part of the development of our programs. Our 120 x 60 ice surface is about 2/3 the size of a professional rink. This creates fast and action-packed scenarios which is any player's dream.

MOVEMENT &
POSITIONING
---
Skating is the foundation of every hockey player's game, and the goaltending position is no different. We build on this foundation for goaltenders through position-specific movement including edgework, power-skating drills, and PSM crease patterns. This gives goaltenders a good mix of building on athletic movement skills, while also working in the familiarity of the crease.
REACTION
ABILITY
---
With all the techniques being taught in the goaltending position now, sometimes the ability to simply react to pucks and make saves gets overlooked. This is still the bottom line for goalies. A goalie's reaction ability encompasses their puck tracking, reflexes, rebound control, and overall save-making ability.
BATTLE &
COMPETE
---
To build upon a goaltender's reaction ability, Battle & Compete is also vital for success. The habits and ability to compete to make saves and follow up on rebounds and scrambles are built into our curriculum at every level.
HOCKEY
IQ
---
Goalies are often classified on their own, but they are hockey players just like any other position on the ice. Their ability to understand the threats on the ice, read the play, and understand what their team and opponents are trying to achieve will help them become more effective goalies.
NET
PLAY
---
Offence continues to be generated often from below the goal line. We put a high level of focus on net play techniques and tactics. Understanding how to position yourself on your post technically and when to use each different technique will make a big difference in stopping these offensive chances.
PUCK
HANDLING
---
A goalie's game is more than just about making saves. It is about the overall prevention of goals and helping the team win. The ability to handle and play the puck is a big part of that. We make sure to build puck handling into our training for goalies at a young age.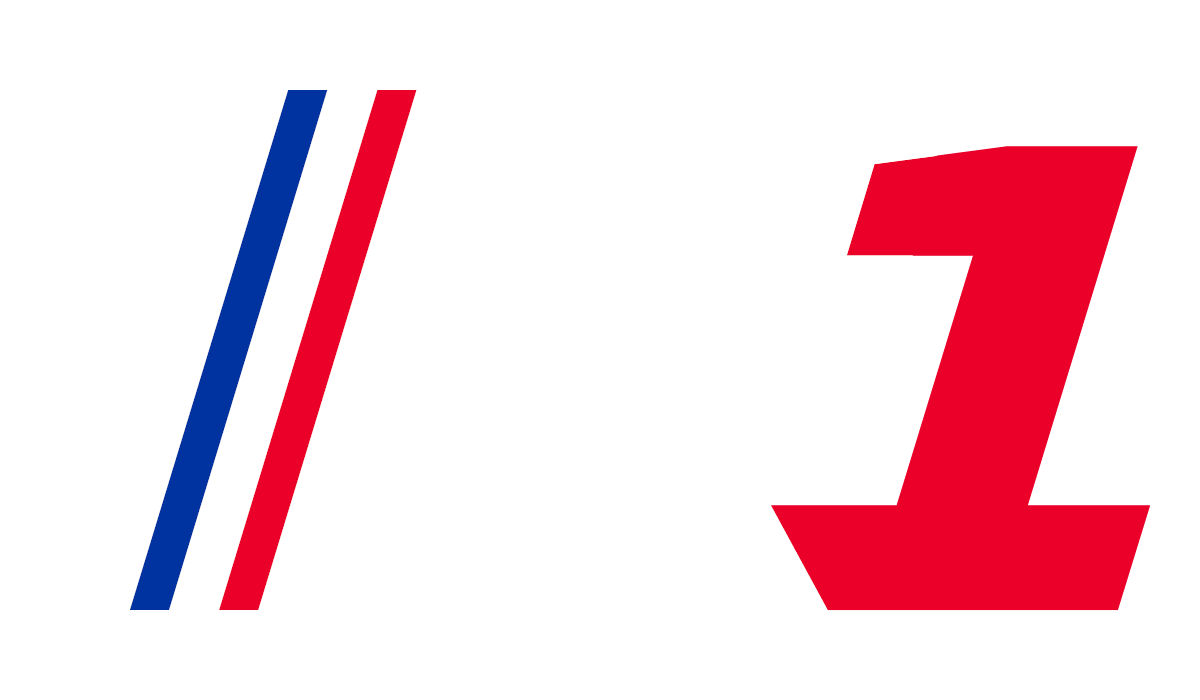 The R1 Program is focused on working with top-caliber, male and female players and goalies from all around Canada. R1 athletes are a dedicated group of players striving to achieve personal and professional goals. A group that pushes each other, day in and day out. A group that makes the RINK feel like one big family during the off-season.
POSITION SPECIFIC TRAINING

SMALL PLAYER TO COACH RATIO

INVITE ONLY PROGRAM

ON & OFF ICE INTEGRATION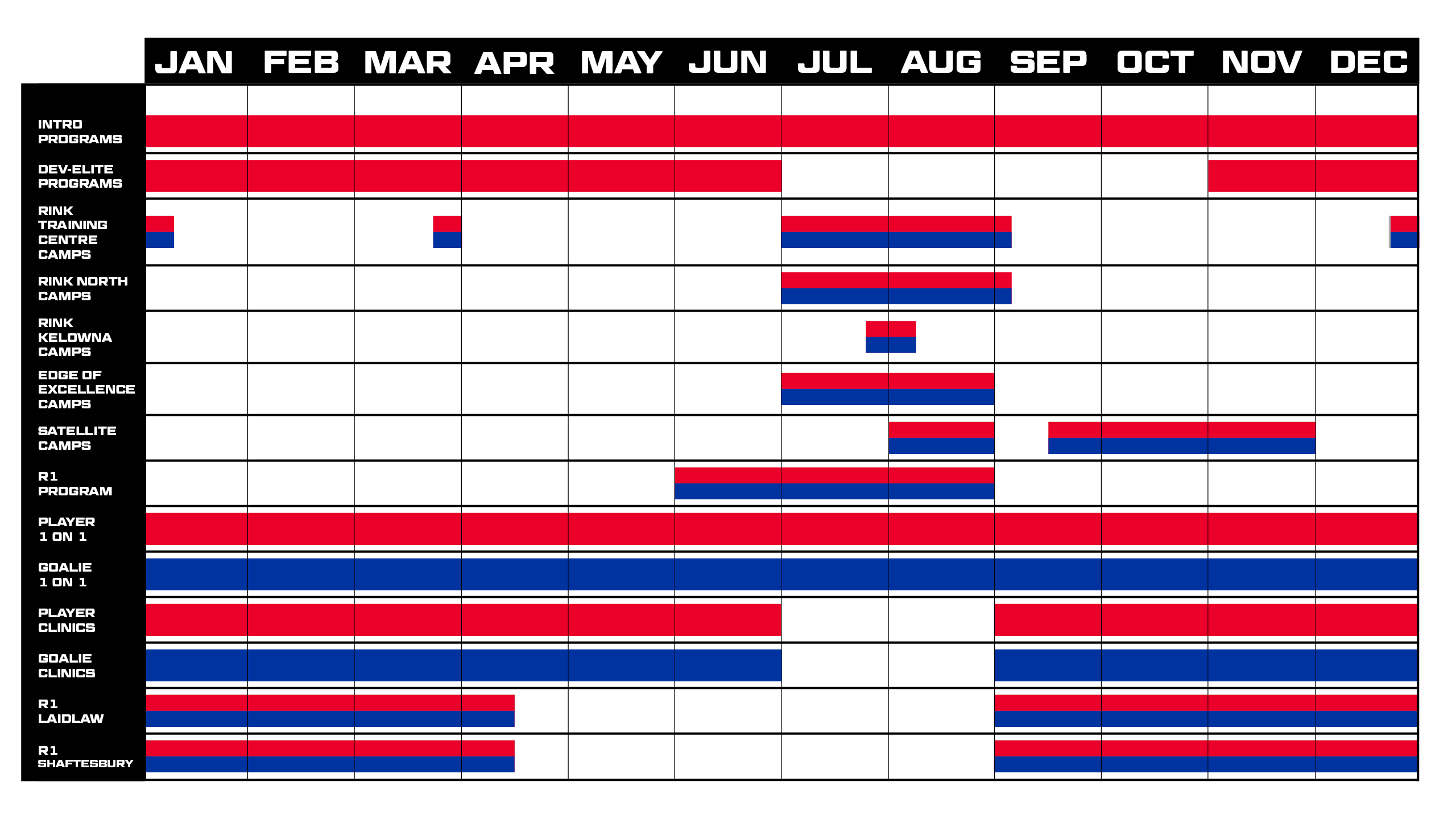 SATELLITE PROGRAMS
---
Our satellite training offers locations further away from our facilities to receive the same great training. Our professional team of coaches brings the RINK's expertise to a local arena near you. Choose from a variety of training offerings custom to your community or team's needs.
MINOR HOCKEY ASSOCIATIONS
---
CUSTOMIZED TRAINING OPTIONS TAILORED TO THE NEEDS OF YOUR TEAM AND ASSOCIATION
Implemented by the most elite class of coaching professionals in Manitoba, RINK offers the top training and skill development programs in Western Canada. Both RINK Player & Goalie Development Professionals offer a host of association and team specific programs.
RINK DEVELOPMENT TEAM
---
The RINK Development team is recognized as the leader in progressive on-ice development. The Development team has established themselves as the dominant choice in the skill development industry and has an unparalleled reputation for developing world-class players and goaltenders. In turn, this has resulted in the consistent development of many of today's leading hockey athletes in junior, college, and pro ranks.
FEMALE SKILL DEVELOPMENT
---
Our female development program strives to provide females the opportunity to excel in the sport of hockey. We believe strongly in providing females the same opportunity and access to high quality training. Our team at the RINK Training Centre is passionate about providing females the skills and knowledge they require to continue in their hockey careers to the highest level possible, both personally and professionally. We are passionate about females in the world of sport and aim to provide high quality coaching and instruction to all our athletes. We pride ourselves on having all female programs with all female coaches as it showcases the next wave of female players and coaches. Our instructors are knowledgeable about the female hockey experience, and the many paths available to female athletes on their journey within the sport.
FULLY INTEGRATED DEVELOPMENT
---
Our on and off ice coaches work closely together to maximize an athlete's potential both on and off the ice.
RINK Training Centre
---
The #1 Fully-Integrated Hockey Training Facility in Canada.
The RINK Training Centre is the home to four RINK Hockey Academy teams. The RINK Training Centre's brand-new, 95,000 square foot facility is one of the best fully-integrated hockey training facilities in Canada. They are able to provide the most innovative and professionally run programs for all ages and abilities of student athletes. As a student athlete, you have a suite of services available to you to fit your needs and help you meet your goals. Available at your disposal are our Player and Goalie Development teams, our RINK Testify Performance Trainers and Therapists, RINK Hockey Academy Coaching Staff, RINK Custom Edge Skate Sharping and much more.

---
The RINK Custom Edge Sharpening is an industry leader with over 10+ years of experience in sharpening, profiling, and best practices. They aim to provide you with the best full-service experience and take care of one of your most valuable pieces of equipment as a hockey player.
HOME DEVELOPMENT
TRAINING OPTIONS
At RINK we provide the most comprehensive development model available in the hockey industry. We will provide the best hockey-specific training that includes the development and reinforcement of proper habits and a resilient mindset that will allow the athlete to excel in all areas of the game.
Small group sizes to increase feedback, proper repetitions, deliberate practice, and elevated mastery.

Progressions developed based on skill acquisition and mastery for Player and Goalie development.

Professional, full-time coaches dedicated to player and goaltender development.

Specialists in each area, working to enhance skill development/acquisition and provide opportunities for overall personal development.