The RINK Hockey Corp., based out of Winnipeg, MB, has recently expanded its operation in Kelowna, B.C. with the opening of a new facility focused on providing more resources to all athletes and clients in Kelowna and the surrounding area. Included in RINK's new facility is a brand-new physiotherapy clinic and training space, Testify Performance. Testify Performance is in a prime location for clients and athletes, with easy access from all regions of the Okanagan.
RINK Testify Performance is home to off-ice training for our R1 Athletes during the summer. As we transition into the winter months all 120 RINK Hockey Academy student-athletes will call Testify Performance home for their off-ice Training and therapy needs. Not only will Testify service RHA teams, they will also be open to offering private training to clients and teams.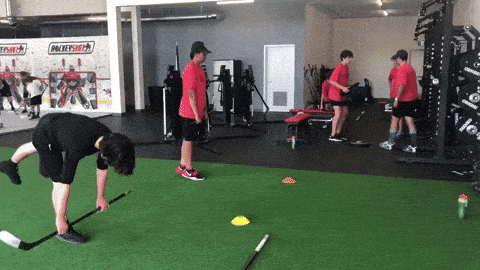 The new 5,300 sq ft space is equipped with state-of-the-art equipment to track metric-based training. The equipment includes 4 Keiser Functional Trainers, 10 Keiser M3 Stationary Bikes, 4 Keiser Racks, dumbbell's, kettle bells, TRX Suspension Systems and Turf for functional movement training. Players can also train puck skills in the shooting bay that is equipped with ice-like flooring and four shooting tarps.
The operation of Testify Performance Kelowna will be overseen by Glenn Carnegie, Regional Manager of RINK British Columbia and Dan Kenzie, Off-Ice Hockey Coordinator. Together these two will produce top of the line individualized metric-based training for all athletes and clients.
MORE ABOUT RINK KELOWNA
RINK Kelowna is focused on delivering skill development in Kelowna and aims to provide camps, programs, and more to athletes in the Okanagan region. RINK Kelowna will also serve as the skill development team for all 6 of the RINK Hockey Academy Kelowna teams.
MORE ABOUT RINK HOCKEY ACADEMY KELOWNA
The RINK Hockey Academy Kelowna, formerly the POE Hockey Academy, is a world-class hockey experience focused on developing 360-degree Student Athletes through unrivaled training, coaching, programs, and resources. The RINK Hockey Academy is designed to build skills for hockey and values for life. RHA Kelowna is a proud member of the Canadian Sport School Hockey League (CSSHL). RHA Kelowna currently has teams in the U15, U15 Prep, U16 Prep, U17 Prep, U18 Prep, and U18 Prep Female divisions.